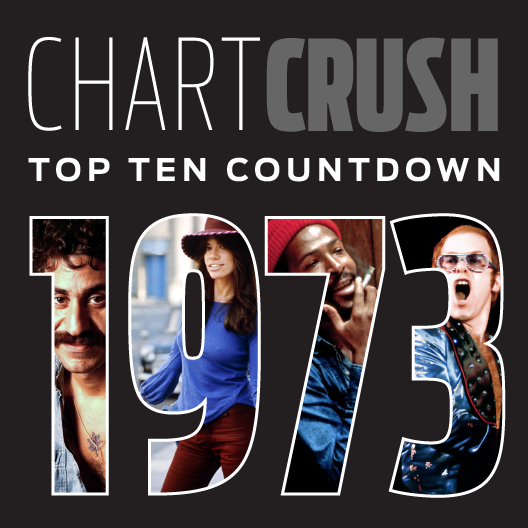 1973 Top Ten Pop Countdown Podcast
Things are unraveling but music is a sanctuary, in the car on 8-tracks or at home on headphones, as Rock and Soul expand horizons on albums like never before.
::start transcript::
Welcome to the Chartcrush Year-End Countdown Show, I'm your host, Christopher Verdesi. Every week on Chartcrush, we do a deep dive into a year in pop music and count down the top ten songs according to our recap of the weekly Pop charts published at the time in the music industry's top trade publication, Billboard magazine. This week on Chartcrush, we're turning the clock back to 1973, a year in which a lot of things unraveled and came undone in America, but as in other eras, music was a refuge: a sanctuary.
Plug your clunky Pickering or Koss headphones into the quarter-inch headphone jack on your amp, drop the needle on a vinyl album and the news of the world just melts away for a while. In your car? No problem! It probably had an aftermarket or built-in eight-track tape player. No rewinding or song selection, but at least you didn't have to listen to the latest Tiger Beat hearthrob's new single sandwiched between Clearasil, Tang and McDonald's "You Deserve a Break Today" commercials on the staticky AM station. Thanks to better sound, and these killer new ways to listen, music had become a truly immersive experience, more effective as a refuge from reality than ever before.
And as I mentioned, a lot to take refuge from in 1973. The year started out with something positive: the Vietnam draft ended, and the same month, January, the Paris Peace Accords brought the U.S. combat role in Southeast Asia to a close. Opposing Vietnam and the draft, the two issues that had galvanized the '60s counterculture. But it wasn't good news for everyone, especially Cold War hawks, who saw it as a humiliating surrender.
Our Cold War nemesis the Soviet Union saw it as a surrender too, and the other shoe dropped in the Fall: a surprise attack against Israeli-occupied territory by a coalition of Soviet-aligned and equipped Arab countries on the Jewish holy day, Yom Kippur. Israel a close ally of the U.S. And as the so-called Yom Kippur War played out, the Soviets aggressively resupplied the Arabs and even considered sending troops and occupying some of the disputed territory themselves.
All this at the height of President Nixon's woes in the Watergate scandal. Well, Secretary of State Kissinger was having none of it and got U.S. forces bumped up to Defcon III for the first time since the 1962 Cuban Missile Crisis, and the Soviets backed off. But in retaliation for our support of Israel though, the Arab oil cartel OPEC turned off the spigot, quadrupling the price of crude and making Americans suddenly (and shockingly) aware for the first time of our addiction to imported oil, as they queued up to buy winter sweaters and fill up their guzzling Furys, LTDs and Monte Carlos with pricey, rationed gas.
And the backdrop to all this throughout 1973, of course: I already mentioned it in passing: the constant drip-drip-drip of the unfolding Watergate scandal. Richard Nixon, the President of the United States, Republican, feared and loathed by the counterculture and the media, but just re-elected in a 49-state landslide in the '72 election: under fire in wall-to-wall televised hearings in Congress to investigate his role in covering up a break-in, by overzealous campaign operatives, to Democratic National Committee headquarters in DC's Watergate office building. Nixon resigned the Presidency in 1974 over that, but it all played out in '73.
Ugh. You want to listen to some music? Hmph. Yeah, now you know how folks in '73 felt!
#10 Charlie Rich – The Most Beautiful Girl
So we're gonna kick off our 1973 edition of Chartcrush with what emerged as a big trend that year, but one that's been overshadowed by Glam Rock, Punk, Funk and especially Disco in our collective 70's music memory. The trend? Country. In the summer of '72, the movie Deliverance starring Burt Reynolds, Jon Voight and Ned Beatty came out and was a sleeper hit at the box office. "Dueling Banjos" from the film was a massive jukebox hit, and got all the way to #2 on the Hot100 for four weeks in February and March: an instrumental Bluegrass number. Was it a fluke? Well one of the records that answered that question and proved that Country crossover was a thing when it topped the Hot100 in December was our #10 song. It's Charlie Rich, "The Most Beautiful Girl."
Charlie Rich, "The Most Beautiful Girl." #10 as we count down the top ten from 1973 here on the Chartcrush Countdown Show. A straight-up Countrypolitan song of the type that Nashville had been cranking out for years. It was even produced by Billy Sherril, Tammy Wynette and George Jones' producer, and came complete with pedal steel in the arrangement and a sad, cryin'-in-my-beer lost love story. Nothing about it engineered for the pop charts in 1973, yet it was #1 on the Hot100 for two weeks in December. Charlie Rich never duplicated that success, but plenty of other Country artists sure did: Jim Stafford, Freddy Fender, Glen Campbell, Crystal Gayle, Jimmy Buffett, Kenny Rogers, not to mention The Eagles, Neil Young, John Denver, Linda Ronstadt, Charlie Daniels, Pure Prairie League and you could even say some of Fleetwood Mac's mid-'70s hits!
#9 Jim Croce – Bad, Bad Leroy Brown
So the platinum Comedy album was a brand new thing in '73 with Cheech and Chong's Big Bambu and George Carlin's Class Clown both passing the million unit mark. Class Clown contained Carlin's bit about broadcast censorship, "Seven Words You Can Never Say on Television," and interesting to note, all seven of Carlin's words are still verboten on America's airwaves, even though they've shown up on literally hundreds of post-2000 radio hits. Radio of course plays special radio edits.
Now "damn" is a four-letter word that wasn't on Carlin's list, but our #8 song was only the second hit of any magnitude that used the word. The first: Isaac Hayes's "Theme from Shaft" in '71. And it's also the first of three story songs in our countdown (more on that later). It's Jim Croce: "Bad Bad Leroy Brown."
One of the biggest hits of the Singer-Songwriter genre: Jim Croce's "Bad Bad Leroy Brown," #9 on our Chartcrush top ten countdown for 1973. All of Jim Croce's songs sprang from his working-class background, attitudes and sense of humor, at a time when the public's appetite for common-man perspectives was growing. "Leroy Brown" is based on a real guy Croce knew in the Army.
Unlike the fellow who cornered that market later in the '70s, Bruce Springsteen, starting with his 1975 album Born to Run, Jim Croce was massively successful on the singles chart, not just with "Leroy Brown" but his other 1973 hits, "Time in a Bottle" and "I Got a Name," and his 1972 breakthrough, "You Don't Mess Around with Jim." Notwithstanding Bob Seger and Tom Petty, no one else with that kind of out-front common-man orientation even approached Jim Croce's success on the singles charts until John Cougar in the early '80s. We can only speculate what might've been had Croce's career and life not been tragically cut short when the plane he was on ran into a tree on takeoff in September of '73. He was only 30.
Perhaps in tribute, perhaps just because he could relate to the song (likely both), none other than Frank Sinatra covered "Bad Bad Leroy Brown" on his 1974 album Some Nice Things I've Missed. And it even charted!
#8 Gladys Knight and The Pips – Midnight Train to Georgia
At #8, the first #1 hit by an Atlanta soul-R&B group that'd been at it since before Elvis, 1952, when the group's lead singer won first prize on a TV talent show. She was just eight. By '57 they had a label, and by '61, their first top 20 hit. And despite not scoring another for almost six years, they did very well purely on the strength of their exceptionally polished, well-choreographed live show.
Motown signed them '66, and label boss Berry Gordy, Jr. put them on Motown's Soul subsidiary label for acts not meant for the pop charts. Which is incredibly ironic because in late '67, the group's version of "I Heard It Through the Grapevine" was a #2 hit on the Hot100 and became Motown's best-selling single ever. Marvin Gaye's version eclipsed it a year later, but by '73 they'd racked up another dozen hits on Soul.
Switching over to Buddah Records in '73, a label that was branching out from its roots in late '60s Bubblegum Pop, they scored their biggest hit late in the year in '73. Too late unfortunately for the second half of its chart run to impact Billboard's year-end ranking for '73, so it winds up #49 on Billboard's published year-end Hot100. But counting its chart action from mid-November until it exited the chart in January '74 puts the song at #8 on the year. It's Gladys Knight & The Pips, "Midnight Train to Georgia."
Gladys Knight & The Pips, "Midnight Train to Georgia." #8 on our Chartcrush Top Ten Countdown for 1973. Gladys & The Pips stayed hot through '74 and into '75, but struggled on the charts in the Disco years later in the '70s. After moving to Columbia Records in 1980, and then to MCA later in the '80s, they notched their last hit in 1988 before amicably splitting after 37 years with the same core lineup and Gladys moving on to a solo career that kicked off with a James Bond theme ("License to Kill") that was a top ten hit in Britain.
In 2019, she defied the Colin Kaepernick NFL kneeling protest fad by singing the national anthem at Superbowl LIII in her hometown of Atlanta. That caused a huge controversy, but at 75 she looked and sounded great and the performance even drew comparisons to Whitney Houston, whose Superbowl anthem in 1991 was a top 20 hit!
#7 Elton John – Crocodile Rock
Now when The Beatles split in 1970, it left a huge smoking crater right at the center of the Pop music landscape. They'd been music's undisputed, go-to yardstick of cool for so long, replacing Elvis in that role, that psychologically, fans and especially critics didn't quite know how to adapt to this new leaderless pop culture mise en scene.
Well, as the saying goes, "nature abhors a vacuum," and in The Beatles' native U.K., David Bowie (in his Ziggy Stardust phase) emerged. But Bowie? Eh, a little too over-the-top for the American middle, even in 1973. Our act at #7 though somehow conjured the sheer audacity to merge British op-art Glam flamboyance with folksy Singer-Songwriter earthiness. And then sell it at L.A.'s most famous Folk club, The Troubadour. Well, if anyone filled the Beatles void in America, it was this guy who notched six U.S. #1's in just three-and-a-half years. And here's the first of them. #7 on our Chartcrush 1973 countdown: Elton John, "Crocodile Rock."
Elton John and his longtime lyricist Bernie Taupin's paean to early Rock 'n Roll, "Crocodile Rock," Elton's first career #1 hit, riding the top of the charts tapping into '50s nostalgia while George Lucas prepared his pre-Star Wars '50s pastiche American Graffiti for release in the summer.
"Crocodile," the lead single from Elton's sixth studio album in just over three years, Don't Shoot Me, I'm Only the Piano Player. And by the way, also the first single released on the MCA label.
In a gutsy move in '73, parent company MCA dissolved all its record labels and merged them together as MCA, which didn't even exist as a label before that. Huge, established brands in the record biz: Uni, Kapp, Coral and, the biggest of them all, Decca. Just like that, poof!
#6 Eddie Kendricks – Keep On Truckin', Part 1
Now part of the reason for Country's expanding appeal, of course, was that it was one of the few things in American life that wasn't becoming completely unhinged from its past in 1973, like Soul music was! Gone were Motown's bouncy R&B pop confections and the Gospel-derived Memphis Soul sound of the Stax and Volt labels. A Billboard article in '73 observed this, noting that only one top 10 single during the year even kind of fits the old definition of Soul, and that was Fred Wesley & The J.B.'s funky "Doing It to Death". So Soul/R&B was changing, but a lot of the names were the same, just going in different directions, free from suffocatingly strict label-imposed formulas.
Now of course Rock was changing radically too, but not too many Rock artists who were big before, say 1967 or 8 were thriving in the sprawling new '70s free-form FM album paradigm. The top Album Rock acts like Led Zeppelin, Yes, Deep Purple, Jethro Tull, Pink Floyd, Alice Cooper: all relatively new to the charts. But in R&B, albums like Stevie Wonder's Talking Book and Innervisions and Marvin Gaye's What's Going On. Even Diana Ross's prolific early '70s output: radical creative departures by the top established artists: not only brilliant, innovative and praised by critics, but hugely successful.
Our #6 song, another example. It's one the main singers in Motown's biggest male group in the '60s, The Temptations, and his distinctive falsetto on "The Way You Do the Things You Do," "Get Ready," "Just My Imagination" and other hits made him one of the most instantly recognizable voices of the era. Here's Eddie Kendricks, like Stevie, Marvin and Diana, still on Motown but now blazing his own trail "Keep On Truckin'."
Eddie Kendricks, #6 on our 1973 Chartcrush Top Ten Countdown. "Keep On Truckin'", the only solo #1 ever by a member of The Temptations. It took its sweet time truckin' up the charts to #1 too: eight weeks from when it broke into the top 20.
The full version of "Keep On Truckin'" clocks in at nearly eight minutes on Kendricks' self-titled third album. Long songs, often split into two parts on singles in those days. What we just heard was Part One, the A-side. For their part, The Temptations, minus Kendricks, had just topped the charts in late '72 with their 12-minute masterpiece, edited to seven for the single, "Papa Was a Rollin' Stone."
#5 Carly Simon – You're So Vain
At #5, the first and only career #1 song by one of the top female Singer-Songwriters of the '70s: a Grammy favorite and daughter of one of the founders of Simon & Schuster, the book publisher. Once the song was a hit, a speculative frenzy ensued thanks to its pointed and clue-filled but still cryptic lyrics. "Who's it about?" you can't help wonder. And the singer was no help. Not just because she wouldn't say anything, but because looking at her bio, is there a good-looking man in music, movies and beyond from the mid-'60s up to '73 that she didn't date? The title of the album it's on is No Secrets. Eh, nothing ironic about that! At #5 it's Carly Simon's, "You're So Vain."
Carly Simon at #5 on our Chartcrush Countdown Show for 1973, "You're So Vain," the year's first #1 song on the calendar, where it stayed for three weeks, then got bumped down to #2 behind "Crocodile Rock" for most of February.
OK, so who is this narcissist who did our girl Carly dirty? The details she gives are so specific, right? You can't help trying to connect the dots. Well, it can't be fellow singer-songwriter James Taylor, who she just married in 1972, right? So who? Rolling Stones front man Mick Jagger? He does sing backup on that record, and, well, Mick Jagger is pretty vain.
For years Simon brushed off the question with "Oh, it's not any one guy, it's just a composite." But then in 2003, she revealed that there was in fact a specific Mr. "You're So Vain" by offering to spill the deets to the highest bidder in a charity auction. NBC executive Dick Ebersol won with a bid of $50 grand, so I guess he knows, but sworn to secrecy under the terms of the auction. Finally in 2015, plugging her memoir, she told People magazine that each of the song's three verses is about a different man. And she even named one. Verse 2, the guy who said they made such a pretty pair and that he'd never leave: actor Warren Beatty. As for the guy in verse one who walked into the party like he was walking onto a yacht, and verse three the guy with the horse at Saratoga who jetted off for the eclipse in Nova Scotia? The mystery continues.
#4 Paul McCartney & Wings – My Love
Now to the extent that The Beatles were a functioning band after Sgt. Pepper's Lonely Hearts Club Band, their 1967 magnum opus, Paul McCartney was the glue that was holding things together. Their manager since the beginning, Brian Epstein, died at just 32 from an accidental barbiturate overdose right after the album came out, and no one besides McCartney seemed to even care enough to try and fill his shoes, which was a tall order, and he was of course unsuccessful. So after the split in 1970, McCartney was rudderless. His first solo album was a collection of home demos of what would've become Beatles songs.
By 1973 though, McCartney and his wife Linda had released their brilliant Ram album, which included the #1 hit "Uncle Albert/Admiral Halsey" and formed a new band, Wings, which, after a lukewarm start, hit its stride in 1973, cranking out two albums and a James Bond theme, "Live and Let Die." Our song at #4 was from the first of those albums, Red Rose Speedway. The second, Band on the Run, came out at the end of the year. #1 for four weeks in June '73, Paul McCartney's first post-Beatles year-end top ten hit: "My Love."
"My Love," the #4 hit of 1973 according to our Chartcrush ranking. '73, a big year for The Beatles past and present. Capitol released its two double-album Beatles greatest hits collections; Ringo and George both scored #1 hits with "Photograph," and "Give Me Love (Give Me Peace on Earth)," respectively; and John Lennon's Mind Games album dropped in November.
Besides "My Love," Paul's Bond theme, "Live and Let Die," was #2 for three weeks, kept out of the top spot by three different songs. McCartney, of course, wrote "My Love," to his wife Linda, and in the promo video they did with other members of Wings, both Paul and Linda got their hair on fleek, sporting a matching pair of possibly the illest first-gen mullets in rock history.
#3 Roberta Flack – Killing Me Softly with His Song
Next up at #3 in our Chartcrush Countdown Show for 1973: the singer who had the #1 song of the year in 1972, "The First Time Ever I Saw Your Face," coming pretty close to repeating at the top-spot. Elvis had back-to-back year-end chart toppers on Billboard's Best Sellers chart in 1956 and '57 with "Heartbreak Hotel" and "All Shook Up," but that was pre-Hot100. Since 1958 when the Hot100 began, this is as close as anyone's ever gotten: Roberta Flack, "Killing Me Softly."
"Killing Me Softly with His Song," Roberta Flack with the #3 song of 1973, nearly repeating at the top spot after "The First Time Ever I Saw Your Face" was the #1 song of 1972: not bad for a DC piano bar singer whose first album barely dented the charts.
She got what turned out to be her big break when Clint Eastwood needed a song for a poignant love scene in his directorial debut, Play Misty for Me and chose "First Time Ever." "Killing Me Softly" was her solo follow-up. She hit #1 again in '74 with a more down-the-middle pop R&B sound on "Feel like Makin' Love," but none of her later stuff comes close to the deep, intelligent intensity of "First Time" or "Killing Me Softly."
Hip-Hop group The Fugees had a massive hit with their cover of "Killing Me Softly," Lauryn Hill singing lead. That was Billboard's #10 year-end Airplay hit of 1996.
#2 Marvin Gaye – Let's Get It On
And next up at #2 as we close in on the #1 song in our Chartcrush Top Ten Countdown for 1973, another top male Soul/R&B singer: Motown's most successful, going all the way back to his first chart hit for the label in 1962, breaking from the template that had made him a star. But this singer had already been going his own way for a couple years by 1973, having thrown down the gauntlet with Motown founder and mogul Berry Gordy, Jr. over his musical direction in 1970.
His first effort with creative control, "What's Going On," which Gordy didn't want to release because it was too political, became Motown's bestselling single ever up to that point, and in '73 he did outdid himself, selling two million in the first six weeks and scoring Billboard's #1 year-end Soul/R&B single with this. As steamy sexual as "What's Going On" was political, it's Marvin Gaye at #6, "Let's Get It On."
Speaking of songs that would've been banned just a few years earlier… Hey, if you want more "Let's Get It On," just pull up the album. There's a Part Two on it, titled (what else?) "Keep Gettin' It On."
Marvin Gaye made Motown a boatload of money in '69 with his version of "I Heard It Through the Grapevine," which I mentioned earlier replaced Gladys Knight's version as Motown's biggest seller. Well, that gave him the clout to demand and get creative control over his music going forward from a very reluctant Berry Gordy, Jr., head of Motown.
"Grapevine" was #1 for seven weeks, late '68 into '69, and the #1 song of '69 if you count its full chart run, which of course we do here at Chartcrush. And then in '71 "What's Going On" did even better sales-wise than "Grapevine," so Gordy loosened the reins with other big Motown acts and a Soul/R&B renaissance ensued and continued with "Let's Get It On," the #2 song on our Chartcrush countdown for 1973.
Lyrically of course, the song is a plea for sexual liberation, which gives it a broader cultural context in the middle of the sexual revolution. The Supreme Court's Roe v. Wade decision declaring abortion a Constitutional right had just come down in January. But Marvin Gaye had a more immediate inspiration: his future live-in lover and, in '77, second wife, Janis Hunter, a friend's daughter just half his age, and Marvin was already married since 1963, to Berry Gordy, Jr.'s sister Anna. Oh boy.
#1 Dawn featuring Tony Orlando – Tie a Yellow Ribbon (Round the Old Oak Tree)
OK, we're down to the #1 song on our 1973 Chartcrush Countdown. We've already heard two so-called "story songs" in our countdown: "Bad, Bad Leroy Brown" at #9 and "You're So Vain" at #5. Now, there've been big story song hits in all eras, but the early '70s: kind of a golden age.
Our #1 song, also #1 on Billboard's year-end ranking for 1973, is about a guy who's just gotten out of jail for stealing and isn't sure if his sweetheart still wants him in her life. He doesn't want to just show up and knock on the door if he's not wanted. That'd be awkward. So he devises a way she can signal "yes, I still want you," and he'll be able to see it from the bus. In his final letter from jail he tells her to "Tie a Yellow Ribbon (Round the Old Oak Tree)." Here's Tony Orlando and Dawn with the #1 song of 1973.
Tony Orlando & Dawn with the #1 song of 1973, "Tie a Yellow Ribbon (Round the Old Oak Tree)." Orlando and Dawn had the #4 song of 1971 with another story song about signaling affections (or lack thereof) without all that difficult and unpleasant eye contact, hemming, hawing and stammering. "Knock Three Times." In that song we never find out how the story ends, but "Tie a Yellow Ribbon" has a very happy ending: not just one, but a hundred yellow ribbons 'round the old oak tree.
And there you have them: the top ten songs of 1973, according to our Chartcrush ranking based on 52 Billboard magazine weekly Hot100 charts from January to December 1973. Billy Preston's "Will It Go Round in Circles" made Billboard's top ten for 1973. We had it at #13. Also, Diana Ross's "Touch Me in the Morning," #10 Billboard, #15 on our ranking. And Kris Kristofferson's "Why Me," Billboard's #6 song of the year thanks to its exceptionally long 38-week chart run, despite only getting to #16 on the weekly chart. Since our algorithm ignores positions higher than #50 and awards bonus points for top ten hits, "Why Me" misses our top ten at #45.
And of the songs we heard this hour, our #9 song, Eddie Kendricks' "Keep On Truckin'" only ranked #35 on Billboard's list because the tail-end of its chart run was after the cut-off date to get their year-end issue printed and mailed before New Years. As I mentioned earlier, same story with our #8 song, Gladys Knight & The Pips' "Midnight Train to Georgia." But our #10 song, Charlie Rich's "Most Beautiful Girl," was so late in the year that Billboard had to bump it into the next year, 1974, where it was the #24 year-end song.
Well, thanks for listening to our 1973 edition of the Chartcrush Top Ten Countdown Show. I've been your host, Christopher Verdesi. On our website, chartcrush.com, you can get a written transcript and streamable Spotify version of this and other Chartcrush Countdown Shows, plus chart run line graphs and other groovy extras. Every week, we count down a different year from the beginning of the charts in the '40s all the way up to the present, so tune again, same station, same time, for another edition of Chartcrush.
::end transcript::